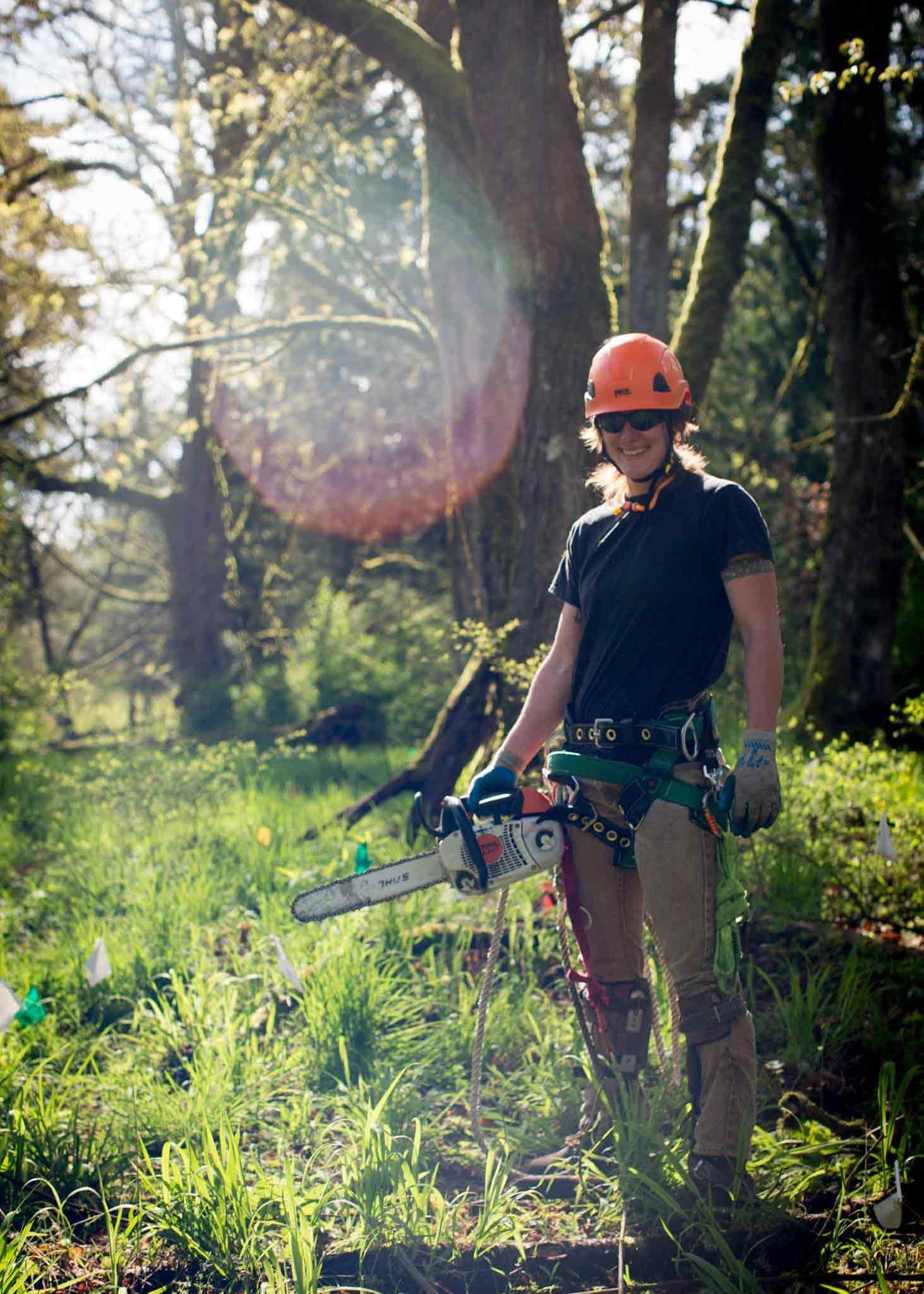 What attracted you to this work?
I served in the US Army as a parachute rigger. I packed parachutes and got to jump out of airplanes and black hawks (a super-bad four blade twin engine helicopter designed for the US Army). I loved it! That's when I found out I was an adrenaline junky.
After I got out of the military, I floundered a bit. I didn't know what I wanted to do. Eventually, I became a pesticide applicator/landscaper, but nothing really filled the void that I had left over from the military. I missed the heights and jumping off of things, although I did discover that I love biology and botany.
I then had the opportunity to attend Oregon Tradeswomen, Inc.'s (OTI) Pathways to Success program, which offers a free, seven week, pre-apprenticeship training class to help women prepare for high-skill, high-wage careers in construction. And I jumped on it! The class exposes you to all different trades. I had still not decided which trade I wanted to do when, on the last week, Jenna Smith came to talk to our class and told us about the apprenticeships she had gone through at the North West Line Joint Apprenticeship Training Council. I was instantly drawn to Jenna's strength and wanted to do what she was doing. Then she started talking about tree trimming. It was the perfect combo of science and adrenaline. It was a perfect match for me.
I applied for the Power Line Clearance Tree Trimmer apprenticeship in October of 2012. I sat on the waiting list for 6 months until I finally got called out for my first job placement as an apprentice in March of 2013.
What do you enjoy most about your trade?
When I started my apprenticeship I was extremely excited; like a little puppy excited. I was motivated to do and learn everything that was involved with climbing and trimming trees. I wanted to become the best apprentice in the field so I could avoid layoffs. I liked how every day we were doing something different, in a different location, and with a different set of challenges. I love everything about my trade. The different challenges we face every day keep my mind active and keep me fresh on all the different techniques used in the trade. There are a lot of different climbing and rigging techniques and 1,000 different ways to trim or remove a tree. And my adrenaline junky needs are being met!
What are the challenges you have faced?
Power line clearance tree trimming is a very physically demanding job. I thought I was in shape before I started, but I wasn't even close to where I needed to be. So I joined a CrossFit gym to build up my strength and endurance so I could perform to the best of my abilities.
What skills or traits have made you successful?
I have been successful in my trade because I have been motivated from the beginning to master the tools of the trade. I have committed myself to never stop learning. There is always something new to learn, whether it's how to do something, or how not to do something. The journeymen and foremen on the jobs have seen hundreds of apprentices come and go through the years. Because of this, they focus on the ones that show a genuine interest and ask a lot of questions.
Always ask questions, even if you think the question is stupid or not important. There is no stupid question. I also learn from watching. When I'm watching a skilled journeyman work, I try to guess their next move before they make it. This helps me learn the skill and planning process of the job; how to get it done safely and efficiently. There is a lot to learn and tree trimming isn't a job that is mastered in a month; it takes years, even beyond your apprenticeship program.
What is your vision for the future for women in the trades?
There has been a lack of women in my trade for many years. In the past two years our numbers have finally started to increase thanks to outreach programs like OTI and advocacy from Jenna Smith, who set a model as a female Journeyman in a position of leadership within the trade. I would love to see the number of women in the trade continue to increase along with our skill and knowledge. As women, we have to work smarter in physically demanding jobs. I'd also like to see more community with the women already in the trade, including women who are working in the non-power side of the tree industry and not part of the apprenticeship. We are very spread out through different utility properties and tree trimming companies; rarely, if ever, working on the same crew. With more community I think we could build the bond of women in this trade, increasing our skills and knowledge, and bring public awareness that these high skilled, high wage jobs are for women too.