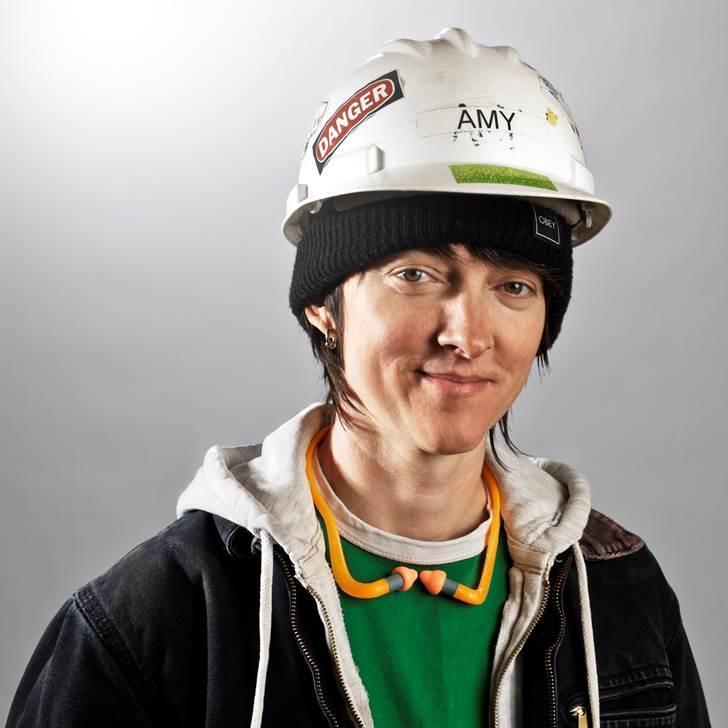 What is your trade and where are you from?
I worked as a carpenter, foreman then contractor for 20 years before leaving the field to teach full time at Oregon Tradeswomen, Inc., a pre-apprenticeship training program for women in Portland. When I'm not teaching, I'm either building up a new fixed gear bike to shred on, or traveling the world with my sweetie.
What attracted you to the trades?
I fell into the trades accidentally. The greatest accident of my life. I had a political science degree with an eye toward law school. I had a mobile coffee business that I decided to sell after school that needed repairs. I called the only carpenter I knew, an acquaintance from my job as a jeweler. She came out to my job with her female helper and began tearing out the cabinets and floors. I was mesmerized. It never occurred to me that women did this kind of work. I needed to see it to understand the possibility. I knew in that moment I had found my passion. I later worked for her for a short time. That was 20 years ago. I never looked back.
What was it like when you started?
Admittedly, it was intimidating to start out. I had gone from being at the 'top of my game' in school, and as a jeweler, to knowing nothing. My first day of work I was asked to cut a sheet of plywood to cover a window opening. I had absolutely no idea what to do. But each day I learned more and before long, I hit my stride. It was exhilarating. I felt I had learned a secret: that learning this trade opens you up to your full power and potential. You lead. You make decisions. You figure it out. You control the built world. You create beauty. I loved every bit of it.
What do you enjoy most about your work?
When I was in the field, I loved framing and I loved finish work. I absolutely love nailing a complex trim challenge. And I love the beautiful bones of framing. Poetry! Now, as the instructor for a pre-apprenticeship program for women, I love challenging my students to smash through the constraints of their perceived limitations. I love making them yell on a jobsite. I love the swagger they have after 7 weeks of being a badass on my job sites.
What are the challenges or you faced?
I was fortunate in that I don't have the war stories of some of my trades sisters. My challenges were limited to fielding ignorant questions and comments from clients, subcontractors (subs) and tradesmen about me being the only woman they've ever seen doing this work. As a foreman, my clients would sometimes address my male apprentice with questions. He would just shrug and nod toward me. I feel like everyone I ever worked with over the last two decades now knows that women excel at this work. I had to find my voice. I had to find a voice that was authoritative and that made subs respond with respect. That was challenging but has given me the gift of feeling strong, confident, knowledgeable, in charge and worthy of respect.
What is needed to be successful in the trades?
Brains. Everyone was worried about my 110 pound body being able to do this work but being ingenuitive, creative and driven is the reason why I was an exceptional carpenter. My body had no problems keeping up with the demands of the work.
What is your vision for the future for women in the trades?
My vision for the future of women in the trades is that every woman knows about this opportunity and for those that it's a good fit for, that there is a clear path in. Once she's there, that she gets the training and support she needs to move into a leadership position. I work every day toward this reality.