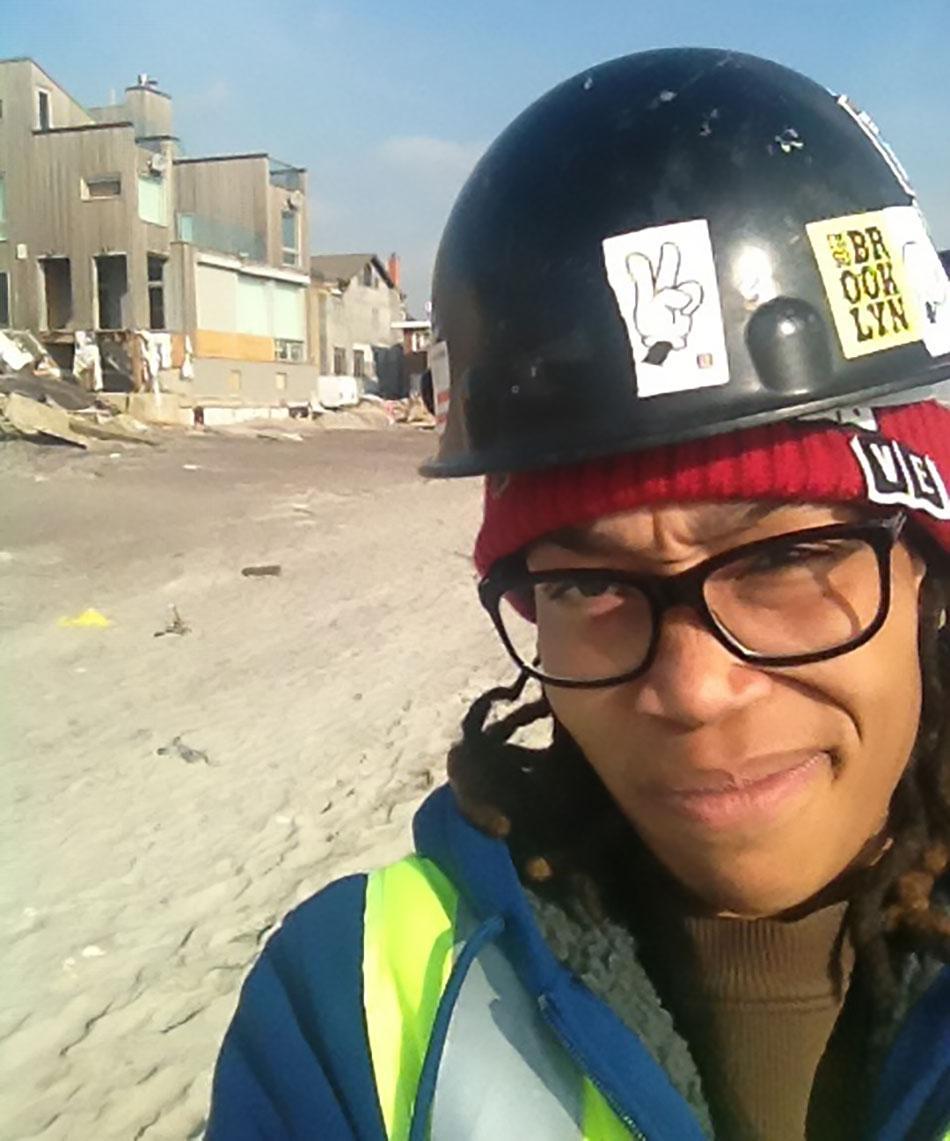 After Erika graduated high school in 1999, she applied for the Nontraditional Employment for Women (NEW) program, which prepares New York City women for careers in the construction trades. When she was not accepted into the NEW program, she decided to join the Air Force, where she served as a police officer. It was a stressful, demanding, and dangerous position. When the Air Force suggested she get certified to guard nuclear weapons, she concluded it was time to look for other opportunities.
After leaving the Air Force in 2004, Erika ended up working in retail. "It was a total bummer." She decided to apply again for the NEW program, and this time was accepted. "The first NEW session I enrolled in, I was working overnights and weekends while taking the NEW classes, and I wasn't able to complete." A NEW instructor believed in her, and encouraged her to take the classes again. This time, Erika was able to successfully complete the classes. The week after the sessions were completed, she had an interview for LIUNA Local 79's apprenticeship program.
Despite some people's doubts about her decision to become a Laborer, she felt "up to the challenge," and joined LIUNA Local 79 in May 2006. "I was attracted to this career because I learned something new every day, and the work was not repetitive."
She enjoys the trade because it resembles the military and gives her the opportunity to meet people from all over the world. It was difficult at first – she felt confused and like she had forgotten what she learned through her pre-apprenticeship program with NEW. With the "learn as you go" method that apprenticeship provides, she was able to re-learn everything in a different way with a more hands-on approach that really worked for her.
Erika related the apprenticeship experience as, "back to the basics of the military; it was like being in boot camp." She began living a more structured and healthy lifestyle to help her adjust to the physical demands and expectations of the job.
Today, Erika enjoys being a Laborer for a General Contractor, overseeing the subcontractors, and making sure the work environment is clean, safe, in order, and prepared. She finds herself "playing Oprah"; looking out for everyone, mediating, helping people, and being there when she is needed.
The challenges that Erika continually meets both on and off the job-site are gender and racial discrimination. Erika attributes such behaviors and comments to ignorance. "Sometimes I rise above the ignorance by staying away, but when necessary, I will deal with it directly. I have been in positions when I have had to report people for their behavior, and they were removed from the job site. You can't let them break your spirit."
If Erika could change anything about the construction industry, it would be to have companies hire more women and keep them on the projects longer, since women are the minority on job sites, and are often the first to be laid off.
Erika's advice to women considering the trades for a career: "The sky is the limit, never limit yourself. How do you know if you don't try? Anything is possible if you put your mind to it, keep going, keep pushing, don't give up, and stay positive."
Interview by Rebecca Krieger, Laborer's International Union of North America